A lot has changed since 1994, when I first entered the admissions field at my alma mater as a road warrior (i.e., admissions counselor). While counselors still hit the road and travel to high schools and college fairs, they now have cell phones with GPS and not paper maps to find their way to their next school. Travel is not the only thing that has changed over the course of my career in admissions. In fact, almost everything we do has changed, to some degree.

One of those things that has definitely changed is student search. The days of simply purchasing a list and sending out a paper letter with a postage-paid response card and getting a 14–20 percent response rate are long gone. No, today's search is far more complex. There are far more moving parts and strategies that need to be accounted for and implemented to make sure your search program is successful. Here, I'll quickly review those steps, and then point out several reasons why you may want to consider working with a partner to ensure that your student search efforts are as successful as possible.
The Complexities of Modern Student Search Programs
As I mentioned, a student search program has many moving parts. Before you make the call to internalize your student search, let's break down those parts, so you can make sure you have the staffing and workload capacity to effectively handle this added internal function. Here is a broad overview of the steps involved in planning and executing a successful student search campaign:
Strategic Review: Conduct a historical analysis (i.e., review your past search program performance, as well as your overall funnel conversions) to determine where (and where not) to purchase names. We've found that one of the key mistakes made by those running internal search programs is that they pull out last year's programs' parameters and reuse them verbatim, without doing any new analysis to determine how to change course and improve.
Name Purchase: Work with multiple vendors to purchase a predetermined volume split across multiple class years. Sounds easy, right? Even with all the process improvements from The College Board and ACT, this is still a very time-consuming process.
Data Cleansing and Preparing the Names for Deployment: That's right, there is more to do than just purchase the names. They must be de-duped against the multiple vendors and your current inquiry/prospect base. Oh, and make sure that you've mapped the academic program codes for each vendor so they will import correctly into your CRM and ERP.
Creative Design and Writing: You will need to make sure you design pieces and write messaging for a multi-channel approach that appeals to a digital mindset. This will include segmentation that will require you to write multiple versions of all of your communications, each tailored to each of your sub-audiences.
Launch Your Program and Collect Your Responses: Remember that you will want to make sure you track and monitor your program, so you can make mid-cycle adjustments to improve performance for the current program and utilize the data to plan and adjust next year's program.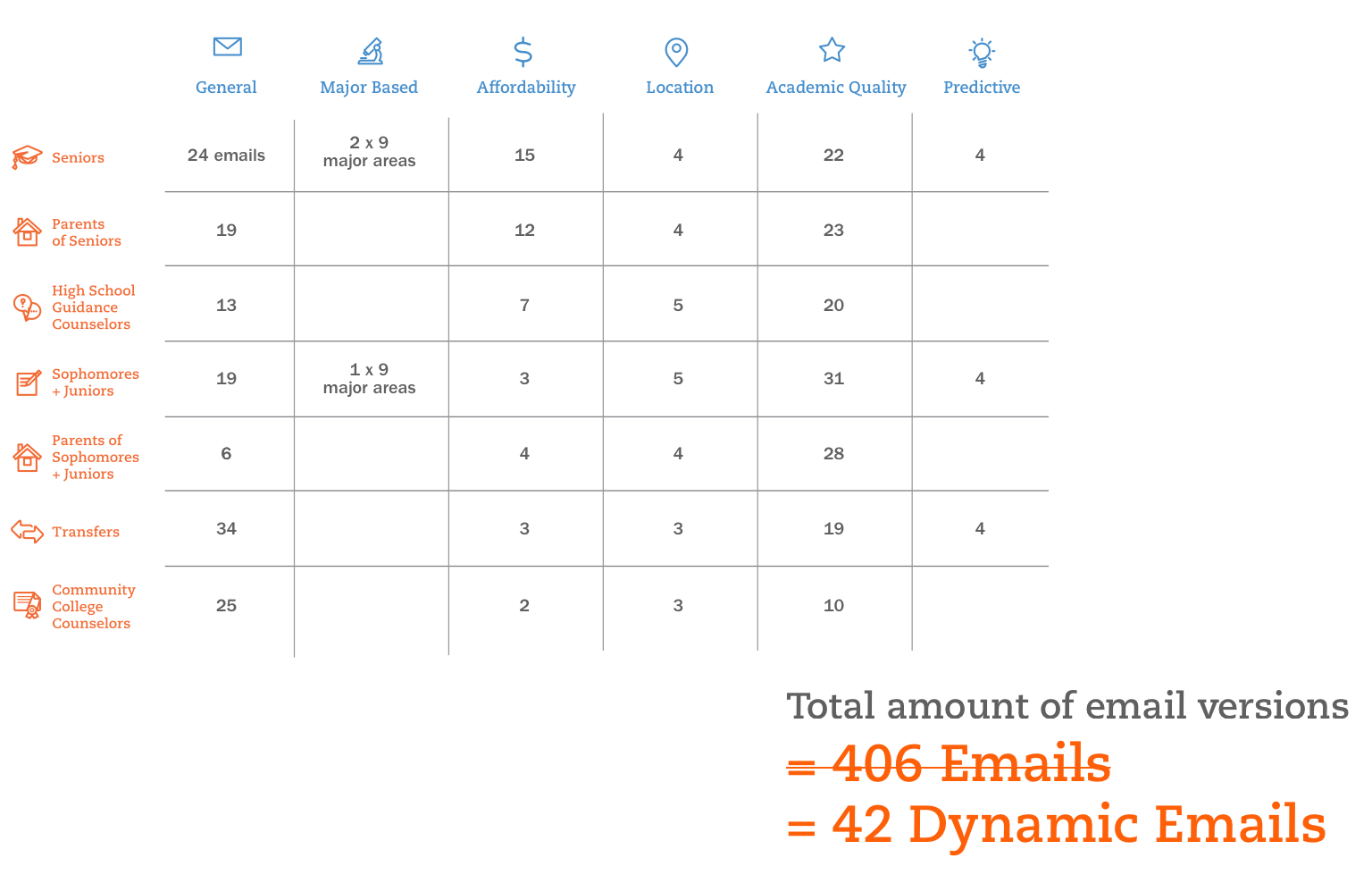 This year-long student search campaign featured over 400 messages. The total figure increased as audiences were further segmented for things like household income (for aid emails), proximity to campus, application started or submitted, and admitted. "Predictive" emails are special messages sent to those who are most likely to enroll.
Simple, right? If your team is anything like the teams I have been fortunate to be a part of during my time as an enrollment manager, then you have some really talented and committed folks around you. You might be thinking to yourself that, with all of this talent, you definitely should be able to internalize your student search program without any problem. However, it's important to be certain that you're not biting off more than you can chew.

Since the emergence of CRMs, which provide the ability to customize and automate communication plans, many enrollment leaders are asking themselves: "So, do I really need to outsource my student search any longer?" Admittedly, I asked myself that very question as I was battling diminishing budget dollars and increased expectations for enrollment growth. It was only logical to look to areas where I was spending university resources to outsource in order to determine what I might be able to bring back in house.

At that time, I seriously deliberated over my options, vetted potential partners, and began to convince myself that I would do as much of my student search internally as possible. "Done. Next," right? As the legendary Lee Corso from ESPN's Game Day would say, "Not so fast!" Measuring the direct cost savings was the easy part. Then came the hard part: the successful internal implementation and execution of the project.
The Challenges of Internalizing Student Search

Conflicting Priorities
Implementing and executing a successful student search program requires adhering to strict timelines. Now, I don't know about you, but on any given day as an enrollment manager, my day could go sideways in a heartbeat and what I planned to accomplish that day. . . well, it would just have to wait. One of the main problems with internalizing search is that it is not your primary job, so when a student, parent, staff member, or a presidential issue or priority arises — which happens more often than not — your search program is put on hold. Suddenly, you're already behind on your timeline.
You might be saying to yourself, "All right, big deal if our search program launches a little late. It's not the end of the world." Think again. Research and experience show that launching your search late will impact your enrollment funnel — and not just for one year, but for multiple recruitment cycles.

That risk is further compounded by the fact that student search programs that are run in house typically have significantly lower response rates, resulting in smaller inquiry pools than programs run by a partner. This, too, has a short– and long-term impact on your ability to reach your enrollment goals.

Left: The poor branding, outdated design, and overall length (20 pages!) all contribute to the ineffectiveness of this in-house search mailing. Right: This targeted search piece, developed by Spark451, focuses on driving a response through strong calls-to-action and a modern aesthetic that embraces the institution's brand look and voice.
It's important to remember that you're not the only one on your team who will have a hard time prioritizing your student search projects. For example, if your internal marketing team handles the creative for your search, they are often pulled in multiple directions at once, and this could do further damage to your carefully constructed timeline.

Possible Skill Gaps
Because your institution's marketing team is not working with this audience on a daily basis, they may not understand how to write engaging and response-driven marketing that will appeal to your prospective student.


Ability vs. Capacity
Even if you are lucky enough to have an in-house team with the talent and ability to do all of the things you need to do in order to internalize your student search, do you have the capacity? If your team doesn't have the time to give your student search campaign the attention it deserves, your entire campaign will suffer. In a recent study conducted by a higher education organization, nearly 75 percent of college admissions offices reported their institutions have only been "moderately successful" in the overall use of their CRMs, due to their lack of internal bandwidth. The fact is that bringing search in house, entirely or partially, will require additional time, training, IT support, and staffing that is not currently available at most institutions. The bottom line is that bringing search in house can, and most often will, cost you time, money, staff fatigue, and turnover. In the worst case scenario, it will cause you to miss multiple enrollment goals.

Choosing the Right Partner
In both instances where I considered bringing my search program completely in house, I ended up finding a partner to take over my student search for many of the reasons I cited above. It was stretching my team too thin, we were missing deadlines, and making sure that our programs were done right outweighed the minimal cost of outsourcing my student search, in the bigger picture.
However, I wanted a partner, not a vendor. Someone that would be a good steward of my dollars and take achieving our enrollment goals seriously.
When choosing a partner, find someone who is just as invested in your institution's success as you are — someone who will adopt your goals and make them their own. At Spark451, for example, we'll take the time to get to know your institution, your brand, what your goals are, and we'll work closely with you to find a solution that is within your budget. Please feel free to reach out. We'd love to discuss your student search challenges and come up with a plan that will help you reach your goals, won't exhaust your budget, and that will make you look like a hero to your administration!