This year's NAGAP conference in New Orleans was both inspiring and informative: We exchanged valuable insights on graduate enrollment, played a few rounds of Jenga, met with some fantastic admissions folks, and, of course, indulged in some delicious beignets.
Now that we're all settled back into our routines, we wanted to recap a few highlights from the educational sessions we presented at the conference, in case you missed anything or need a refresher.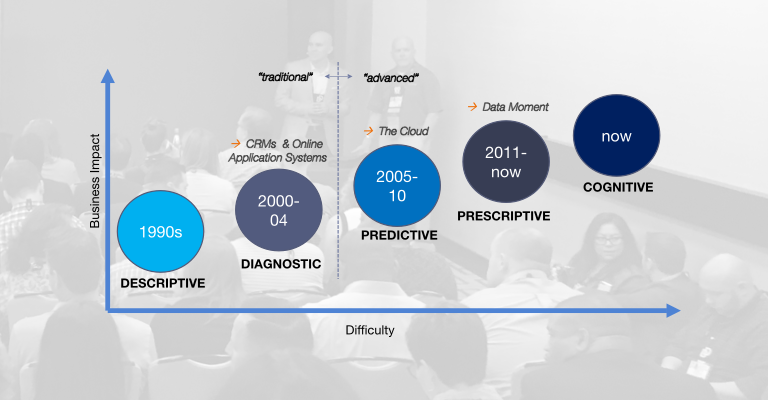 How to Operationalize Predictive Analytics
JC Bonilla, our chief data scientist and head of analytics, gave an in-depth presentation, entitled "Operationalizing Predictive Analytics in Your Enrollment Mix," to a packed room. During the session, he explained the process behind machine learning and advanced analytics, as well as the challenges in implementing them within recruitment marketing.
As JC sees it, the deployment of predictive analytics requires a shift in how we typically ask "how many?" in funnel analytics or estimate who is likely to complete an action. With this new outset in data interrogation, new patterns begin to emerge and the answers make themselves known. We are able to detect hidden patterns in text, behavior, and attitudes of prospective students, and as a result, identify meaningful demographic groups to target. From there, prioritization techniques can help us with better resource allocation in the recruitment cycle.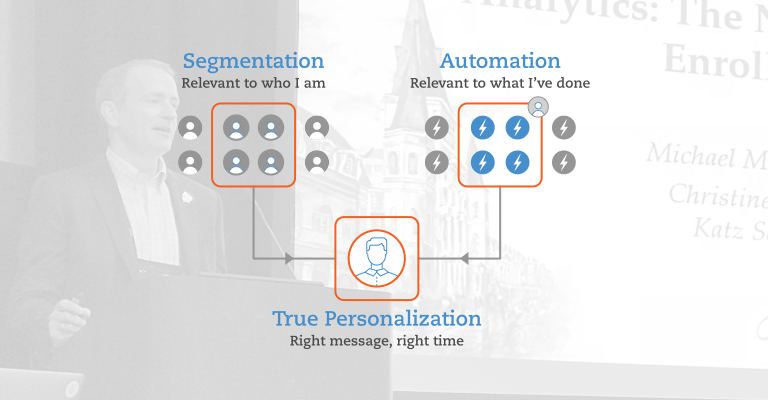 Reaching a More Engaged Audience
Spark451 Principal, Mike McGetrick, presented "Personalization, Automation, & Analytics: The New Essentials of Graduate Enrollment Marketing," which focused on ways to implement personas to enhance and streamline your marketing communications with dynamic content and automation.
To target a more engaged group of prospective students, we employ a tactic known as persona modeling, in which we create prospective student archetypes and deploy unique messaging to each group. By identifying different key personas, we come to learn more about our audience beyond typical demographics; we get to know their goals, career paths, preferred modes of communication, and more. These additional insights allow us to deliver highly tailored messaging to each student. With this level of thoughtful personalization, you can expect to see higher open rates, better engagement, and better enrollment results down the line.
We also deliver highly personalized content at scale with the strategic use of technology. Through our Element451 intelligent admissions marketing platform and CRM, we are able to set up workflows and automate messaging so that we can easily deliver our customized messages to the right audiences at the right time. This ensures that each student receives a complete narrative in the context that makes the most sense for them. Through automation, we are also left with a central repository of data regarding how each student interacts with the messaging and where exactly they are in the enrollment cycle, which we can use to optimize the rest of our campaign.
To learn more, download the full presentation slides here. If you'd like to talk more about how Spark451's strategic tactics and intelligent admissions technology can help boost your enrollment numbers, reach out to us now.