Higher education marketers have all been here: You're perusing the internet, checking on the ads in your enrollment campaign, using search terms you know you're bidding on, and BAM — you're served your competitor's ads, before or in place of your own. You quickly click over to look at your bids and ad position on Google Ads and see your performance may need some work, but how do you know where to optimize against the competition? What can you do when you see that you may be underperforming, and in turn, losing leads to another college or university?
Reviewing the competitive landscape is an essential part of any digital media strategy, but seeking out competitor information can be challenging. Depending on where you look, the information you receive may be inaccurate, irrelevant, or too overwhelming to be useful. It helps to have a partner who can do that hard work for you. Fortunately, at Spark451, we have a dedicated digital media team that has access to powerful tools that can be used for optimizing digital marketing for higher education. At Spark451, we use a data-driven approach to help our partners achieve their goals. Here, we will explore just two of the many competitor analysis tools we use to help our partners achieve powerful results with their Google Ad campaigns.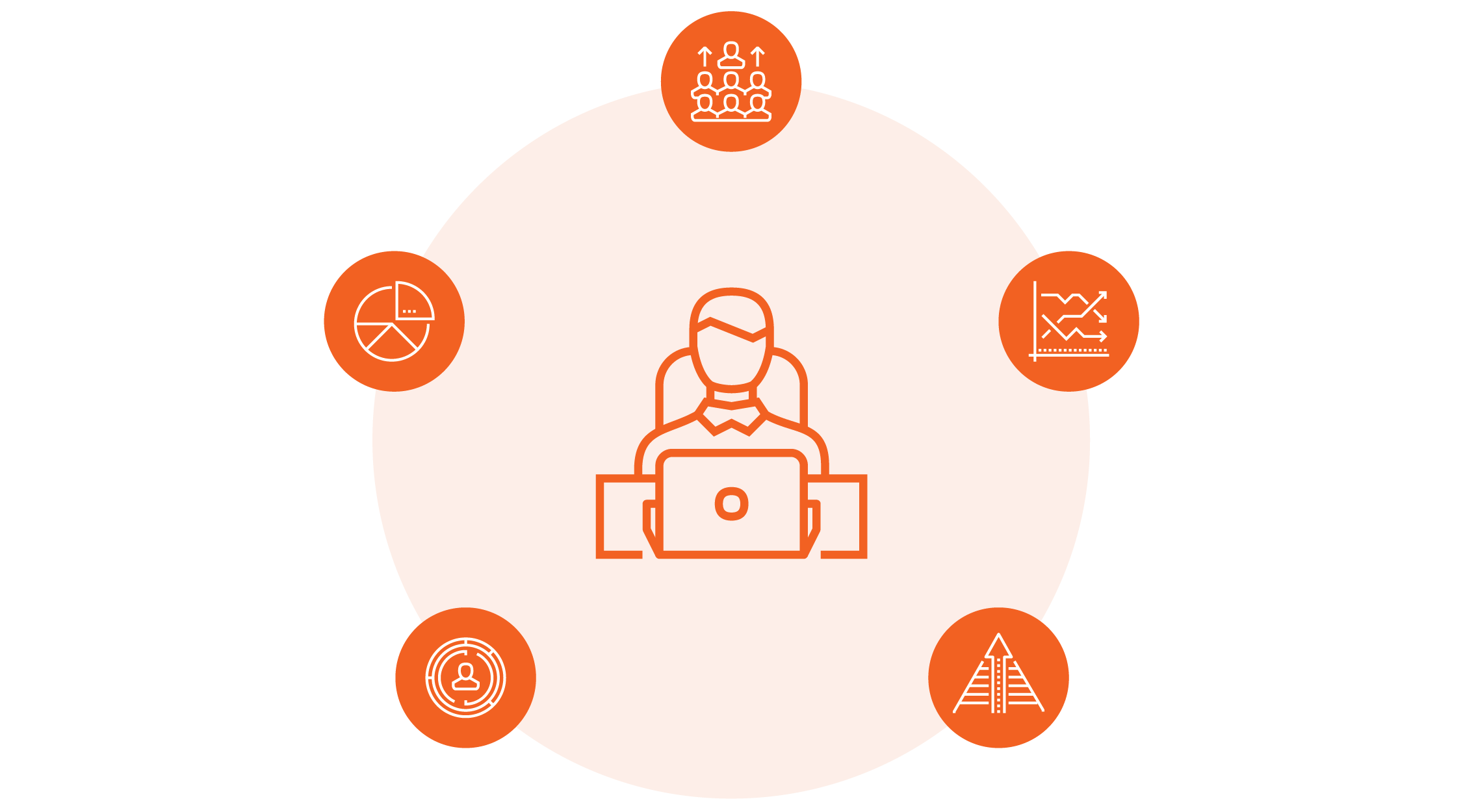 Auction Insights Report
The Auction Insights Report, an entry-level analytics tool accessible through the Google Ads platform, allows you to see where you rank against other colleges and universities in some important metrics, and informs your decisions to optimize accordingly. The report gives you a broad overview of how you compare to competitors based on the following metrics:
Impression share
Average position
Top-of-page rate
Outranking share
Overlap rate
It's important to note that when you are pulling this report, you cannot choose which competitors you are shown against. Rather, Google chooses those competitors based on who is in the same auctions. Also, you can only view these reports at the campaign, ad group, or keyword level.
Competitor Analysis Report
The Competitor Analysis Report is exclusively available to those who are Google Partners, like Spark451. It provides a comprehensive analysis, allowing us to compare one of our clients against their five closest competitors. This report offers more actionable data than the Auction Insights Report, such as in spending or click-through rate (CTR), because we are able to choose which competitors are researched, as opposed to them being automatically selected by Google.
Below is a report we ran for one of our clients. It allowed us to provide a clear, data-based, and actionable breakdown. Armed with this info, and advice from our dedicated Google representative (a special resource that we have access to thanks to our Google Partner status), we were able to provide our client with a thorough understanding of what needed to be done to improve their enrollment campaign's performance. We recommended specific actions for better optimization, and provided a broader sense of how to improve the client's CTR against competitors.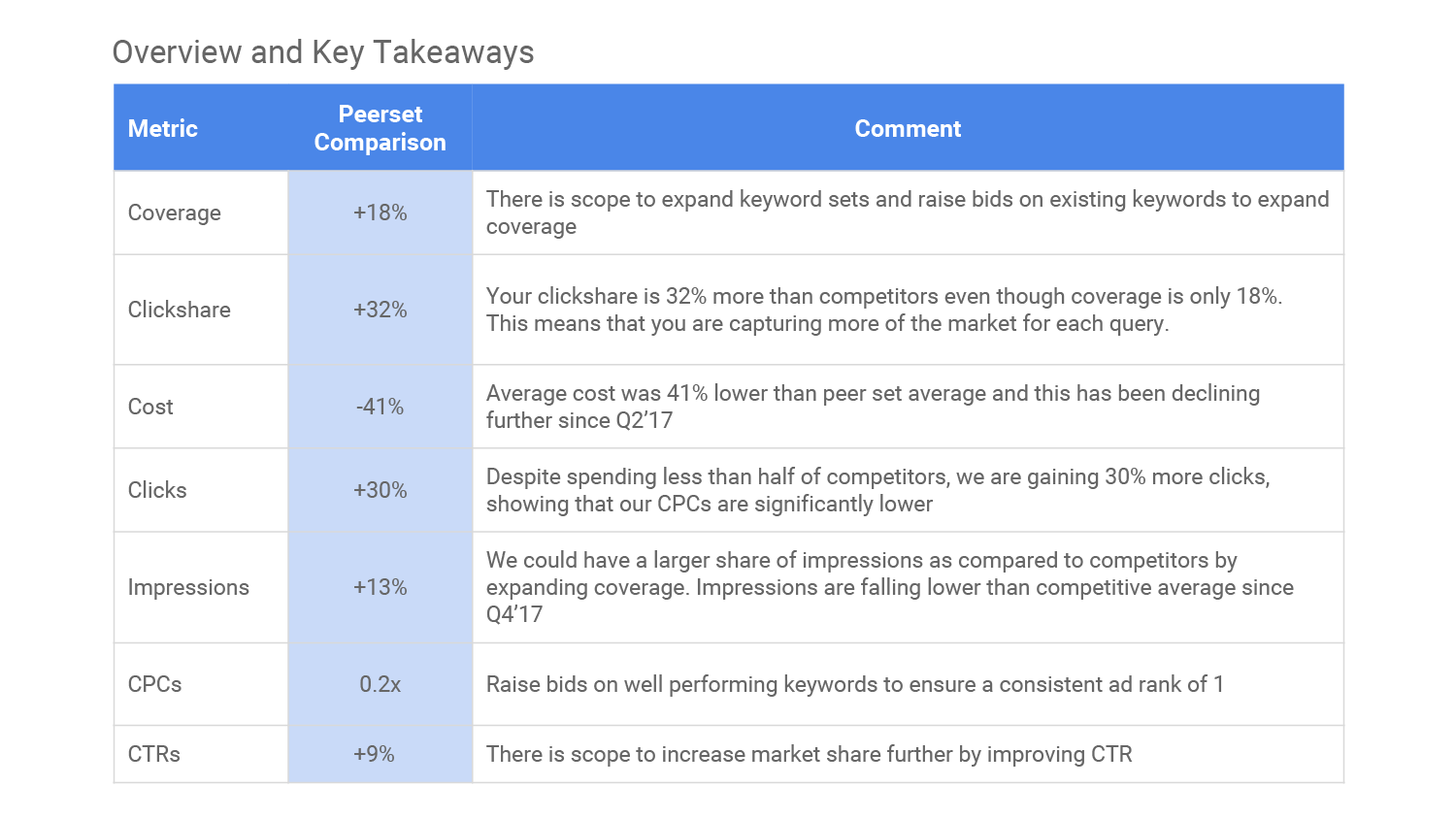 This report showed that our partner's CTR was 9% greater than their competitors, while their spend was 41% less. It also showed us that we were underperforming in our impression share, which led to a discussion of increasing budget and reevaluating keywords.
Getting the Full Picture
This post only scratches the surface of what it takes to optimize against the seemingly endless amount of competition on the higher education landscape. When you move beyond Google, it can get even more challenging because most platforms dont offer reporting tools as robust as the ones we discussed above. Although actual numbers are important to utilize, knowing who your competition is, the reputation of their programs, and what kind of visible efforts they are putting forth are also crucial steps to discovering and understanding how your institution measures up.
We realize that competitor analysis for digital media may seem like an overwhelming endeavor, but that's why our team of experts are here to help. At Spark451, we're dedicated to staying ahead of the curve and providing the most reliable digital media strategy, planning, and optimization services for higher education. We'd love to support your admissions efforts through your next digital media campaign. Feel free to reach out to discuss how to optimize your spend.